Our vision was to create a sustainable resort that remains respectful to the environment. We achieve this by using renewable raw materials that contribute to the reduction of greenhouse gas emissions and pollution. We consider ourselves fortunate to be located in Laos, where we have access to teak wood and bamboo, one of the fastest-growing renewable biomass materials.
In our ongoing efforts to protect the environment and eliminate the use of single-use plastics, we provide guests with a refillable hot/cold water bottle and a bamboo toothbrush. All bathroom amenities at The Namkhan are completely natural and environmentally friendly, which extends throughout the resort to our housekeeping and laundry practices.
We are doing our best to be the change we all long to see by reducing what we need, reusing what we can, and composting wherever possible, as we work towards a zero-waste future.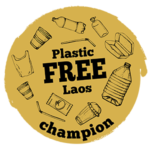 Environmental Preservation
Being mindful of the large amount of water consumption in farming and hotel resorts, we wanted to do as much as possible to ensure minimal environmental impact. As an organic farm, our soil is more efficient at retaining moisture. Additionally, we prioritize the use of zero pesticides, ensuring that harmful contaminants are not realised into the earth. To further our sustainability efforts, we source our water from The Nam Khan River to irrigate our crops. Moreover, we have installed septic tanks with a coal and sand layering system to clean our wastewater before discharging it back into river. For all other purposes, we have implemented an underground water system.
Eco-Accommodation
All of our accommodations, built by our team of builders, have been designed and furnished by our carpentry team. We have chosen to use local teak wood, bamboo, and recyclable grass for roofing, promoting sustainability. Inside, you will find our ["favourite art pieces, as well as handicrafts from Luang Prabang, adding a touch of local culture. All bamboo items are woven by Mae Souk, our resident bamboo weaver.
Community & Education
We understand that sustainability extends further than products and materials and are committed to help our local community by offering school educational days and workshops. We employ more than 40 people from surrounding villages and cover healthcare costs for all of our employees. Many of our staff live onsite within staff quarters and all have the opportunity to develop skills in their area of interest further. In addition, we provide English classes and opportunities for growth in management roles.
While we strive to share our knowledge with the local community, we also recognize the importance of learning from them and respecting their traditions. That's why we welcome farmers from other provinces to exchange skills and practices so that we can all keep growing together.